We're In South Jordan!
Address:
1325 S Jordan Pkwy #101
South Jordan, UT 84095

Phone Number:
(801) 679-0627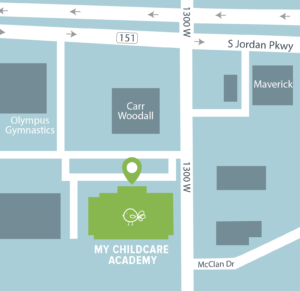 Many of the kids in our care come from South Jordan, Draper, Riverton, Herriman, and other nearby cities. We are committed to providing Utah families with the best childcare possible while engaging your children in fun and educational activities. Learn more about our programs here:
We even have a part-time preschool program opening up in August 2022. Please reach out for additional information about hours and schedule to see if it's the right option for your family.
Stay Connected
While your child is in our care, you will be informed about your child's progress through Brightwheel. Our incredible staff uses this program to manage classes and keep you updated on your child's daily activities and any milestones they might achieve. To learn more about Brightwheel and to access our forms, check out our Parent Resources page!
Get in Touch!
My Childcare Academy is happy to answer any and all questions you may have about our childcare, activities, meals, or anything else! Ready to schedule a tour? Call us at (801) 679-0627 or request enrollment information by filling out the form at the top and be sure to get on our waitlist!