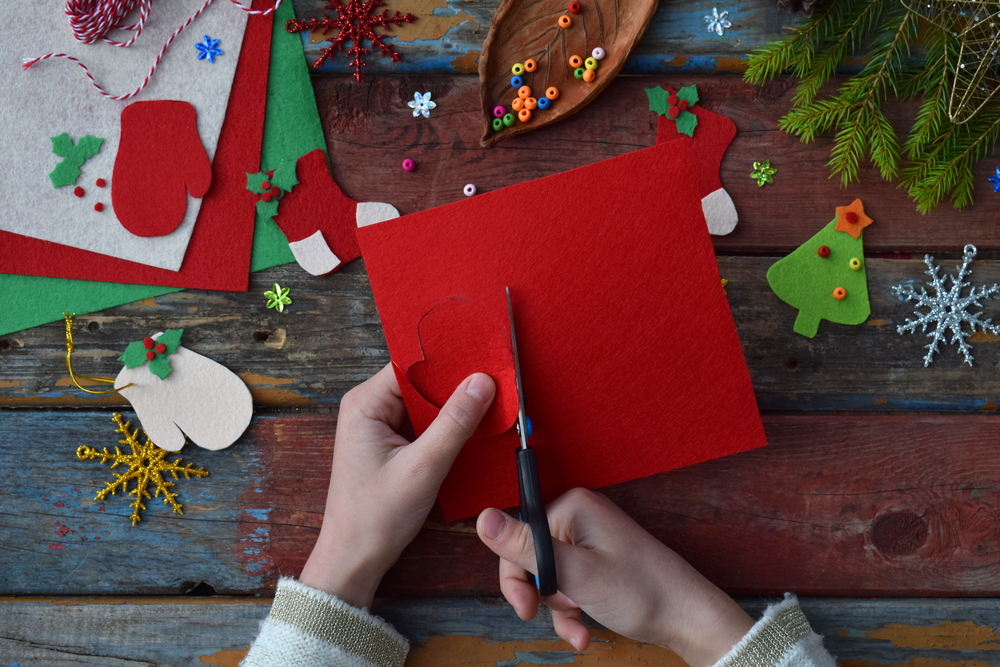 6 Holiday Kids Crafts in 15 Minutes or Less
Nobody loves holidays more than children! For parents, one of the biggest joys is seeing your little ones get caught up in the magic and wonder of the season. You can see their creative minds soar through imaginative play and festive art projects. You just don't want it to be too messy—the cleanup can definitely take away the joy of crafting. For the sake of your child's attention span, you'll also want to make sure the craft can be done in a timely manner. Also, don't forget to use kid-safe craft materials like non-toxic paints and safety scissors. Check out these six holiday crafts your kids can do this holiday season.
October
Marble Mummies
This one is very simple and fun! Take black construction paper and cut out the shape of a person. Then, lay it down on a plastic container that has been lightly painted with white paint. Place three to four marbles in the container and allow your child to move the container around, letting the marbles roll over the paint and cutout. It'll look like a mummy that has just escaped the Great Pyramid of Khufu!
Patchwork Pumpkins
Discover how creative your little one can be with this cute pumpkin project! Have them cut out a pumpkin shape from cardstock or construction paper. Then, put together an assortment of orange and yellow-colored shapes and textures and let them glue them onto the pumpkin.You could even add magnets to the back of the pumpkin so that you can show off your little artist's work on the kitchen fridge!
November
Salad Spinner Turkeys
"Just throw a paper plate into your salad spinner (we didn't have any plain plates, so we used the back side and it worked great—I try to avoid buying new supplies for crafts whenever I can help it!). Then put some swirls or drops of paint in the middle of your plate—adding a little water to your paint will help it spread even more—it's a great way to use up the end of those paint bottles! Put the top on your spinner and spin away! Check out your design, add more paint if you want to and do it again until you reach your desired product. Then let your paint dry and add a super simple paper turkey and you've got the cutest DIY Turkey decorations!"
—@weneedmoreglitter
Nature Turkeys
Go on a little nature field trip with your child. Have them gather a variety of leaves, twigs, feathers, and other things that they'll be able to use to create a collage-like turkey. Glue the "feathers" to a piece of craft paper and hang your nature turkey for everyone to see.
December
Handprint Wreath
Green paint, paper, and maybe a bow is all you'll need for this easy holiday craft. Have your child place their hands in green paint and then onto a large circular piece of paper. Repeat this until the handprints have formed a full circle. It would also be a great idea to create one of these as a family using everyone's prints!
Popsicle Santa
A true crafter knows that anything can become art! Gather together a bunch of popsicle sticks, cotton balls, paper, glitter, and googly eyes and see if you and your little one can recreate the magic of the holiday season by putting together a popsicle stick Santa Claus.
Happy Holidays from My Childcare Academy!
We are so excited to see the crafts you and your children make! If you got inspired and try one of the ones featured above, please post about it on Instagram or Facebook and tag @mychildcareacademy so we can see it!