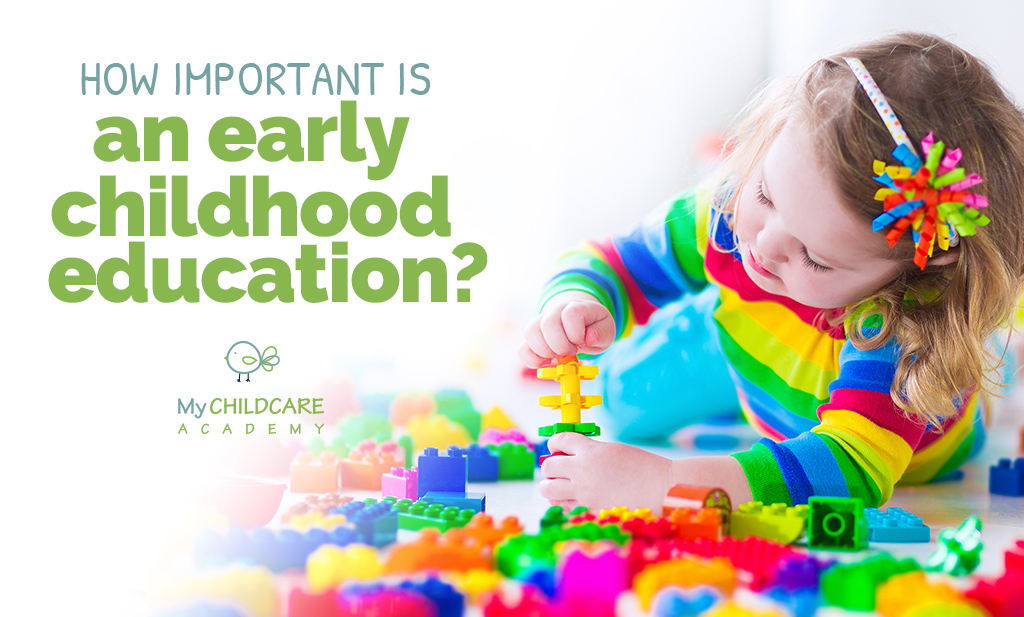 How Important Is an Early Childhood Education?
Prioritizing early education is one of the best things you can do for your child. Research shows us that early childhood education helps prepare children for elementary school both socially and academically. My Childcare Academy's programs are structured to give your child a balance of playtime, socialization, and learning activities.
If you're feeling apprehensive about sending your little one to daycare or preschool, that's okay! Parting with your child for the first time is a big step and we're here to help you take it.
Here are five reasons why early childhood education is so important for a child's growth and development.
1. Social and Emotional Development
Early childhood education offers young children the opportunity to socialize with children and adults who are not part of their family. It's a great way to help young children make friends and boost their self-confidence. Early socialization also teaches essential social skills like communication, cooperation, sharing, and respecting others' possessions, personal space, and feelings. Socializing at a young age can reduce shyness and separation anxiety.
2. Exposure to Diversity
We live in a diverse society where values like tolerance and acceptance are crucial. Early childhood education gives children the chance to meet people who are different from them at a young age. This teaches children that everyone is unique and that's okay. Whether it's a difference in race, family structure, abilities, or cultural background, our differences are something to be celebrated and respected!
3. Reading and Writing Practice
Studies have shown that reading to children as early as possible can improve their language and literacy skills. According to a 2016 study, a child's experiences with language and literacy during the first three years of life can shape their future progress with reading, writing, and verbal communication. Whether we're reading books out loud, sharing our feelings, or taking time to practice letters, My Childcare Academy provides early language and literacy opportunities for both toddlers and preschool-age children.
4. Preparing for Kindergarten
Sending your child to kindergarten for the first time can be an emotionally overwhelming experience for both parents and kids. Preschool offers a combination of structured learning time and playtime to help make this experience less scary. Many aspects of preschool, like taking turns, quiet time, using your words, and listening to the teacher's directions, will directly translate to kindergarten. It also gives kids practice being away from their parents for a few hours each day, which can often be challenging for new kindergarteners.
5. Establishing Self-Sufficiency
While preschool students are still very young, we believe it's never too early to teach them independence. Helping young children realize that they can do things on their own establishes a sense of self-worth and accomplishment. Preschool gives children a chance to help with small tasks like cleaning up toys, passing out snacks, or helping set up a craft. Our teachers will always be there to help and keep your child safe, but we'll also give them room to grow by trying things on their own.
Learn More About My Childcare Academy!
We are located in South Jordan but also have students coming from nearby cities like Riverton, Draper, and Herriman. Our friendly teachers are dedicated to making every child's experience fun, safe, and engaging. Give us a call today if you have any questions, or request enrollment details by filling out the form on the contact page. We look forward to meeting you and your little one!